Nutrition Tips for Mothers Post-Delivery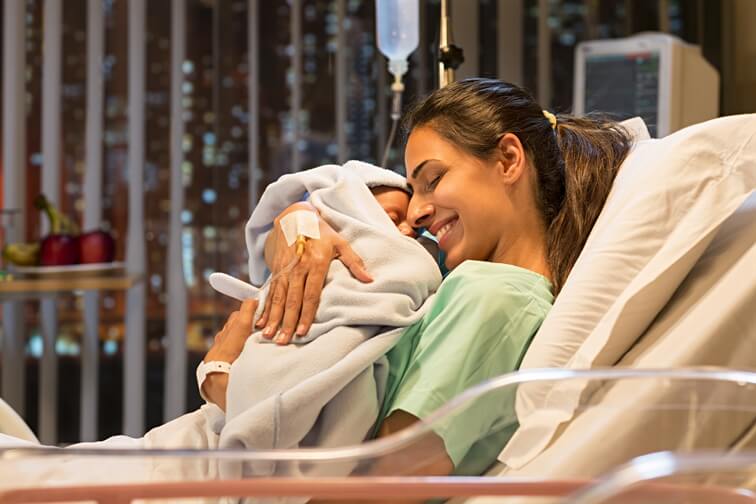 At the physical level, a mother undergoes many changes during pregnancy and also with the birth of her baby. This makes it important for her to heal and recover from pregnancy and childbirth. During this time, all mothers require a healthy diet to support healing and recovery.
Following are some tips to help you select a healthy diet after child birth.
Eat when you feel hungry, and select a healthy option.
Drink plenty of fluid as you will feel quite thirsty. Keep a drink besides you before you sit for a breastfeed.
Try to consume a wide variety of foods.
Avoid restricting your diet unless you think a food is upsetting your baby.
Avoid alcohol as far as possible, as alcohol in breast milk can affect your baby's feeding or sleeping.
Avoid drinking too much strong tea or coffee.
Include exercise and everyday physical activity in your healthy dietary plan.
As mentioned here, mothers post-delivery should eat whenever they are hungry but many mothers get so tired that they forget about the food. Therefore, to make this simple, experts suggest planning healthy meals that include choices from all food groups.
Experts have divided food into five food group categories, emphasizing the nutritional intake of the following:
Grains
Foods that are prepared from wheat, rice, oats, cornmeal, barley, or another cereal grain are grain products.
Vegetables
Select a variety of vegetables, including dark green, red, and orange vegetables, legumes (peas and beans), and starchy vegetables.
Fruits
Any fruit or 100 percent fruit juice is considered as part of the fruit group. Fruits can be fresh, or dried, and may be whole, cut-up, or pureed.
Dairy
This includes milk products and many foods made from milk.
Protein
Select low-fat or lean meats and poultry, fish, nuts, seeds, peas, and beans
Most mothers want to lose their pregnancy weight as soon as possible, but strict dieting and rapid weight loss can harm your health and your baby's if you are breastfeeding. It can take quite a few months for a mother to lose the weight that was gained during pregnancy. But don't worry too much about that since breastfeeding will require quite a few calories. As long as you eat healthy, and exercise, it's good for you and the baby.