Breastfeeding: Is Your Baby Eating Enough?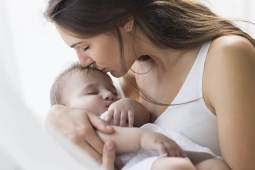 Mothers may be concerned about their babies getting enough milk, when they start breastfeeding. It can be difficult for mothers to tell how much milk a breastfed baby is drinking. But, in time, you will become confident that your baby is getting enough milk.
An easy way to see that your baby is getting good amount of milk is when the baby is content after feeding, and is steadily gaining weight after first week of age. In general, a baby gains weight of about 18 to 28 grams each day from birth to three months. However, it is normal if your baby loses some weight in the first weeks.
Some common signs to reassure you that the baby is getting enough milk include the following:
The sucking patters: The baby starts feeding with a few rapid sucks, followed by long, sucks and then swallows with intermittent pauses.
You can see and hear your baby swallowing the milk.
During sucking, your baby's cheeks remain round and not hollow.
During the feed, baby seems to be calm and relaxed.
At the end of the feed, baby comes off from the breast on their own.
After feeding, the mouth of the baby is mostly moist, and he/she appears content.
After feeding, the breasts feel softer, and you may feel relaxed and sleepy.
Other signs to know that your baby is getting enough milk
Wet and dry nappies are also a good indication that your baby is getting enough milk. Wet nappies should become common from day five onwards, where baby has at least six heavy, wet nappies each day. Also, don't be too alarmed if your baby has only 2 to 3 wet nappies in the first 48 hours. The baby will have about 3 bowel movements every day up to day 7 after birth. Passing enough clear or pale yellow urine is also a good sign that the baby is getting enough milk.