Developmental Milestone for Six Months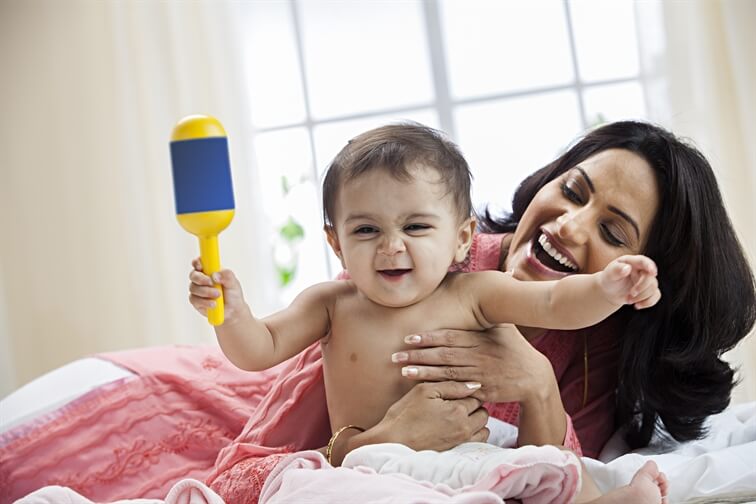 The term "developmental milestones" refers to important physical or behavioural skill that young children will develop as they grow.. Behavioural changes or physical activities like smiling, talking, rolling over, crawling, walking and talking are all considered milestones. The milestones are different for each age range.
Here are few of the baby milestones that a child may achieve in the sixth month.
Physical development
They may hold themselves up with their hands and try to sit up alone by six months. And over time, they may begin to sit without support
They can start to roll: from the back to the stomach, and from the stomach to the back
They can crawl or rock back and forth
While standing, their legs may hold almost all weight with support
Babies may start sleeping for almost 6 ­ 8 hours at night
May move object from one hand to other or pick up a dropped object
May show signs of teething
Drooling may increase
They may weigh double their birth weight
Cognitive development
They may start looking at things around
May be curious to reach out to things
May try to bring things to mouth
Start recognizing parents while fearing strangers
May begin to imitate actions
Communication development
They may make sounds to respond to sounds or try to imitate sounds
They may smile, laugh and babble away ("ma-ma" or "ba-ba")
They make sounds to express happiness or displeasure
May respond when you call their name
Some tips for you babies in their 6th month
Place the toys out of reach which may encourage them to crawl3
Play games like peek-a-boo which will help them to understand that objects still exist even when they are out of sight3
Use body movements, actions and imitate common words like "mama"
Get them large, safe, brightly­coloured toys that make noise or have moving parts5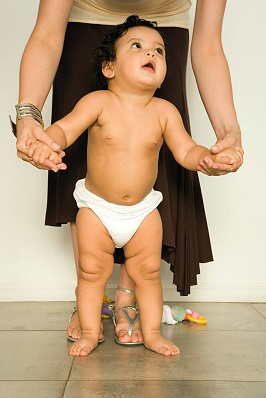 Developmental milestone for 12 months
During the first 12 months, infants may go through many changes. This is the phase where a completely new born baby is slowly being transformed to an independent little child.
Here are few of the milestones observed as the child is 12 month.
Physical development
Babies may weigh three times their birth weight by now
Their height may grow to 50% over their birth length
They may sit down or even stand without any help
May stand up and try to walk holding on to any support
They may sleep for 8 to 10 hours at night
May get 1 to 8 teeth
May try to pick objects using the tip of their thumb and index
They may even start using few of the daily items like spoons ,hairbrush correctly or do routine things like eating food on their own
Cognitive development
Try to do analyze objects by shaking, banging, throwing
Can easily find hidden things
If you name a picture or an object, they look at the right picture
They try to copy gestures
Play simple games with ball
They can understand and follow simple directions like "pick up the toy"
They may cling to their parents or become anxious on separation
May develop attachment to their toys
Communication development
Can speak out few of the common words like mama, dada
May try to repeat the words you say
May start using simple gestures like shaking head for "no" or waving to say "bye-bye"
May make sounds with changes in tone
Some tips to help you 1-year old further develop skills:
Provide them with picture books
Sing songs for them
Give them large push toys to play with, which can encourage them to walk
Avoid the television and other objects with a screen, till the age of 2.
The house should be made baby proof by ensuring a few things, like making sure stairways are gated; keeping pots, dishes, cleaners are out of reach, etc.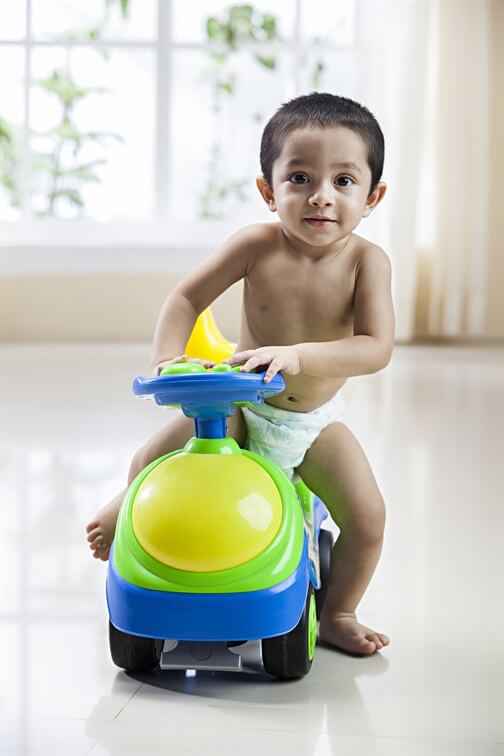 Developmental milestone for 2 years
A child's brain development is fairly rapid between their first and second birthday. Due to this, amazing changes may be observed as they gradually learn to talk, walk and remember different things.
You can expect the child to achieve some of these milestones as they turn 2 years old.
Physical development
Babies may reach about half their final adult height
They may gain about 1.5 to 2.5 kg from the time they turned 1 year old
They may have about 16 teeth by now
Can kick a ball easily
Can climb up and down the stairs with support
May start running a little better
Can even pick up objects while standing
Can draw straight lines and circles
May start understanding toilet habits
Cognitive development
They may develop a preference for using one of their hands more than the other
They may put on or remove simple clothes without help
May be able to communicate some of their common needs, such as if they feel thirsty, hungry or want to go to the toilet
Their vision is fully developed by now
Can differentiate between different shapes and colors
Can build towers with blocks
They can understand and follow simple 2 step instructions. For e.g., "Wash your hands and come here"
Communication development
Can speak about 50–300 words which may vary
Can say sentences of 2 or 3 words
They may repeat words which they have overheard from someone
They remember names of known people or body parts
They point to things or pictures in a book or elsewhere, when they are named
Some tips for babies at 2 years
Allow the child to help you with a few simple household chores
Encourage them to play games that involve building and creativity
Provide them space for healthy physical activities
Try to read story books to them