Dealing With Your Baby's Teething
When a child is "teething", it means that the tooth is emerging through the gums in the mouth of infants, which normally starts during the first year of life. Remember though that every child is different and every child may have a slightly different way of handling teething – which means that you might have to try few different things to help your kids feel comfortable during this time.
When will my baby's teeth appear?
Some babies might be born with their first tooth, while others can either start teething before they are 4 months old, and others after 1 year of age. Mostly teething begins when a baby is about 6 months old. The bottom front teeth or lower incisors come through first, which is followed by the top front teeth. Majority of the babies will have all their milk teeth by the age of two and a half years.
What are the typical teething symptoms?
The usual signs of teething include –
Biting or chewing on things frequently
Sleeping problems
Refusing to eat
Drooling or dropping saliva, which normally occurs before teething
Gum swelling and tenderness
Acting irritable
Also, note that teething does not lead to fever or diarrhoea.
What can I do to lessen the discomfort due to teething?
Feed your child cool and soft foods like curds, if your child is eating solids.
Wipe your child's face with a cloth to remove the drool, which would prevent rashes.
Rub your baby's gums gently with a cool, wet cloth or with a finger (make sure your finger is clean).

Give your baby an object to chew on, such as a rubber teething ring. Some of these rings can be cooled first in the fridge to soothe the gums. Avoid giving any liquid-filled teething products or plastic toys that can break.
Never place any frozen object against your baby's gums.

Provide a cool sugar-free drink such as water to soothe your baby's gums.
Play with your baby to distract them from the pain in their gums.
Give your baby raw fruits or vegetables to chew, if they are 6 months or older.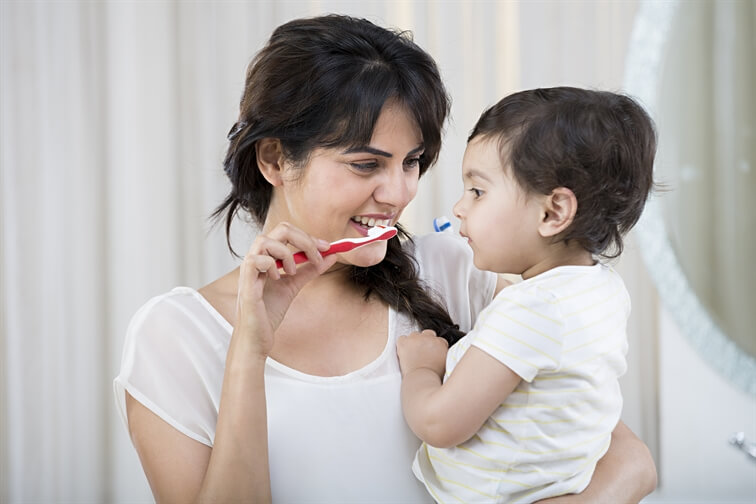 Dental care for your child
Healthy teeth and gums are not only an essential aspect of dental care, but also are essential for the overall wellbeing of your child. Diseased or poorly developed teeth can cause –
Difficulties with speech development
Inadequate nutrition
Painful and dangerous infections
Poor self-image
Proper dental care of your child teeth mainly involves brushing, rinsing and routine dental check-ups.
Caring for your child's teeth
Wipe your infant's gums after every meal with a damp cloth.
Do not let your infant go to bed with a bottle of milk or juice.
Replace the cloth with a soft toothbrush to clean your child's teeth as soon as the first tooth appears.
Take your child to the dentist every 6 months.
Tooth brushing tips for babies
Slowly start brushing all the surfaces of your child's teeth at least twice a day, particularly before bed.
Brush your baby's teeth in small circles and teach your child to spit the toothpaste after brushing.
Supervise your child while brushing so that they get the right amount of toothpaste and they are not licking toothpaste from the tube.
Help your child to brush their teeth until they are at least seven and can do it properly on their own.
Sugar and dental care
It's well known by now that sugar causes tooth decay. Here are some simply ways to reduce your child's intake of sugar:
You can use bottles for feeding milk or water, but avoid using it for juices or sugary drinks as it can increase the risk of tooth decay.
Provide drinks in a cup after your baby is 6 months old.
The regular milk and water are the best drinks for your baby; avoid any form of sugar-sweetened drinks.
Always dilute one part of juice with 10 parts of water, and your child should not have more than 150 ml of juice in a day.
Give your child sweet foods or fruit juices only during mealtimes.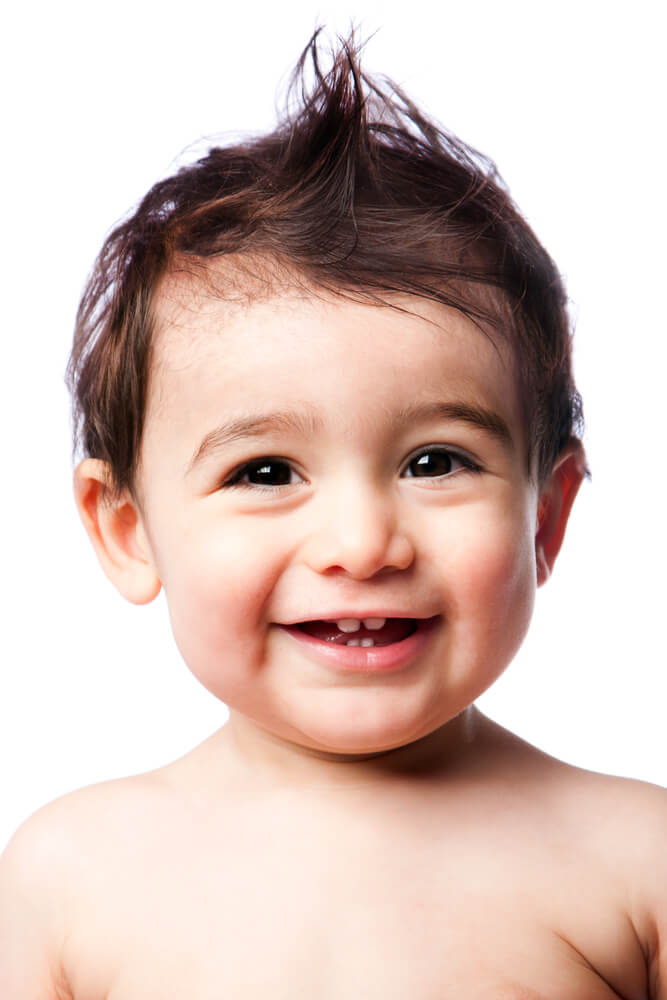 Tooth development in your baby
The crowns of the 20 milk teeth are almost developed when a baby is born, but they are hidden inside the infant's jawbones. Both milk and permanent teeth have definite times of eruption. Normally, the four front teeth (two in the lower jaw and two in the upper jaw) are the first ones to erupt, starting when your child is about 6 months old. Your child's jaws keep growing gradually to accommodate the permanent teeth that will start to erupt as they are about 6 years old. The milk teeth begin to fall by the age of 6 to 7 years and are usually all gone by the age of 12 years.
What are the normal ages of tooth eruption in a baby?
Most children will have all their milk teeth by the age of two and a half years.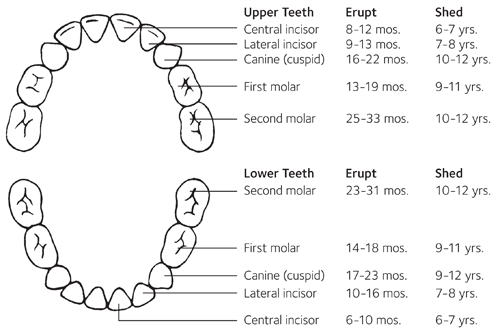 Why do I need to take care of my baby's milk teeth?
Even though milk teeth are temporary, it is very important to take good care of them. Here are the reasons why a child should have strong milk teeth:
To chew foods easily
To help pronounce words properly
To hold a place in the jaw for permanent teeth
To avoid cavities and oral pain
To avoid certain infections, since infection of milk teeth can cause some damage to the permanent teeth developing below
Thus, good dental hygiene is a must, not only for adults, but also for your child.